Will Apple sell 1 million iPhone 5Cs in 24 hours?
According to an informal study conducted by Piper Jaffray analyst Gene Munster, strong consumer interest in the iPhone 5C may enable Apple to sell as many as one million devices in the first 24 hours of pre-order availability, reports Barron's. Apple and its carrier partners began taking pre-orders for the iPhone 5C soon after midnight PT on Friday.

After surveying consumer sentiment via Twitter, Munster concluded that the public reaction to the new iPhone 5C had "largely followed the pattern of the iPhone 5 announcement." Since the iPhone 5 sold approximately 1 million units through pre-orders, the analyst expects that the iPhone 5C will sell a similar amount.
Munster also noted that the initial negative reaction to the iPhone 5C was primarily driven by tech-savvy users who "panned the 5C since it had minimal changes from the 5." However, the analyst believes that the new color schemes may help increase the sales of the iPhone 5C.
"As more normal people became involved in the conversation, it appears that color matters to consumers and the 5C could be more popular among the total consumer base than some may have expected," wrote Munster in a note to investors via Barron's.
Although Apple offered pre-order sales for the iPhone 5C, it didn't offer that option for the iPhone 5S. The iPhone 5S won't be available until it hits store shelves on September 20. However, Munster believes that "Apple could sell 5-6 million 5S and 5C units in the launch weekend," or 20 percent more than it did in last year's iPhone 5 launch weekend.
Here's how Apple closed out the trading week.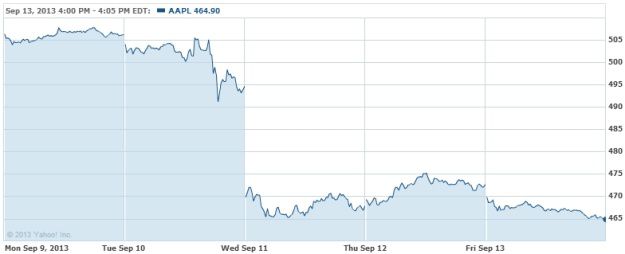 To be informed of the latest articles, subscribe: