White LG Nexu 4 shows up at Google I/O
There are rumors that a white Nexus 4 might appear at Google IO, and congratulations, iy has been spotted at Google I/O on May 15, 2013, and according to the Android and Me blog. And it is also said that white Nexus 4 would hit the Google Play store on June 10th and it would be accompanied with Android 4.3.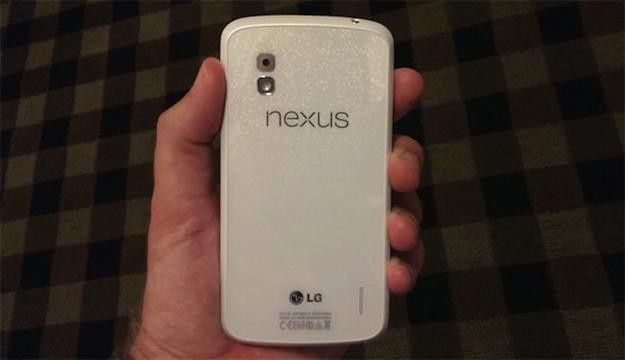 Most of us expected Google to announce Android 4.3 at the big keynote, but it sounds like the next version of Android was intentionally bumped from the show. Sources at Google say they wanted to demonstrate their ability to roll out new services and APIs without upgrading the Android firmware, and it appears they made their point.
Not much is known about Android 4.3, but we expect it to be a rather minor update. The developer API level should be bumped up to version 18, with support for Bluetooth Smart (and possibly OpenGL ES 3.0), and that's about all we know. We are unable to confirm this, but we assume that Android 4.3 will be pushed out to all current Nexus devices (4, 7, 10) when it goes live next month.
Except for the white back, there's nothing really interesting or new about this device. But LG seems finally getting a grip on Nexus 4 production problems, which plagued its supplies for months. So another color version to choose from, might be interesting for quite a few Android aficionados.
The Nexus 4 was also featured in a leak which appeared prior to Google I/O's keynote – which like most of the others, didn't come true – that suggested there would be an updated version of the phone announced, with LG and Google adding 4G LTE connectivity, CDMA support and a memory boost to 32GB. While the latest leak says the white version is identical to the existing black Nexus 4, that's not to say these alterations won't show up in another model.
Furthermore, should the white Nexus 4 be released in June, it could come with Android 4.3 installed, something else which is MIA at Google I/O. Again, assuming Android and Me's sources are correct, the update will be a minor one, adding Bluetooth Smart support and little else. Google I/O 2013 has delivered very little of what we expected, so for a white Nexus 4 and Android 4.3 to come out after the event instead of during, fits with this year's contrary style. If the June 10 release is correct, we should known more soon.
Whether this white LG Nexus 4 is a real upcoming retail model to be announced soon, or if this is just a prototype never meant to see Google's Play Store – is anybody's guess.
The Nexus 4 might not be the most exciting device on the block anymore, but it's still a damn good value with a starting price of $299.
Article Source: White Nexus 4 and and Android 4.3 coming June 10
White LG Nexus 4 Shows Up In Dubai Ahead Of Google I/O. May Not Get To Moscone Center In Time
White Nexus 4 spotted at Google I/O, rumored for June 10 launch with Android 4.3 installed
To be informed of the latest articles, subscribe: