Samsung Galaxy Note 10.1 4G LTE edition will be available at Verizon on March 7th
It has been quite a long time since Verizon first announced its plans to offer a 4G LTE-enabled version of the Samsung Galaxy Note 10.1. And today, Samsung announced the availability of the 4G LTE-enabled Samsung Galaxy Note 10.1 for March 7th.
The tablet will be available in stores and online for $599.99. For that price you get a slate with a 10.1-inch HD display, 1.4GHz quad-core processing, 5MP camera, and Android 4.1. The main difference from the standard Note 10.1, of course, is access to Verizon's 4G LTE network.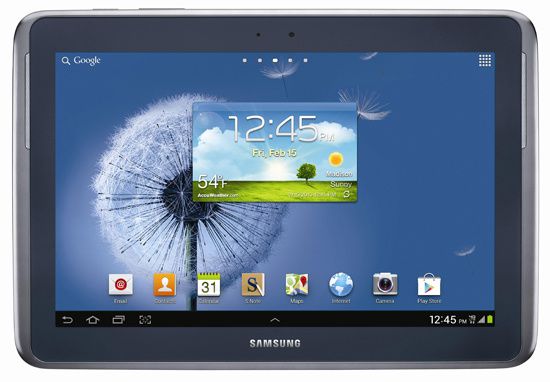 For many people tablets are great for Web browsing, downloading movies, gaming, and much more. But, actions including note-taking, photo editing and multitasking have proved challenging for some.

Following a trend started with the Galaxy Note II, the Galaxy Note 10.1® features the advanced S Pen™ stylus. Business professionals can take notes during meetings with handwriting-to-text capabilities, and drawing tools to jot down plans. Notes can be saved and shared over 4G LTE with coworkers and clients.

Students can use the multiscreen feature to view two apps at once by splitting the screen. For example, users can read a news article while taking notes or watch a video while replying with feedback.

For photo editing, the Galaxy Note 10.1® runs Adobe® Photoshop® Touch. Combined with the S Pen™, building visual effects, such as layering, blending and filters, can be used by designers to show drafts or mock-ups to potential clients. Users can combine and manipulate images creatively with the S Pen™, then upload work to the cloud using 4G LTE to access their portfolio just about anywhere.

Watching television with a second screen has become second nature for many. For TV fans, the Galaxy Note 10.1® features the Smart Remote, powered by Peel, to turn the tablet into a universal remote control. The tablet can control an entire home entertainment system and even recommend programs.

Like many other Samsung Galaxy devices, the Note 10.1 runs on Verizon Wireless 4G LTE and comes with Android™ 4.1, Jelly Bean. The Samsung Galaxy Note 10.1® will be available online and in stores in the coming weeks and on display at CES in booth #31400, the Las Vegas Convention Center's South Hall.
Get to know more information about Samsung Galaxy Note 10.1 4G LTE edition from Verizon at CES.
Reference: Samsung Galaxy Note 10.1 4G LTE makes its way onto U.S
​Official: Samsung Galaxy Note 10.1 available at Verizon March 7th
​Samsung Galaxy Note 10.1 4G LTE Edition Officially Launches on Verizon
Share this post