News Corp is to launch a 10 inch Android tablet for classroom
News Corporation, parent company to Fox News, will enter the education sector this fall with not only a tablet-based curriculum but its own Amplify Tablet, aimed at taking on Apple's iPad in K-12 technology.
Rupert Murdoch's News Corp has made a push into the classroom, targeting the iPad with the launch of an Android-based tablet from its Amplify education subsidiary.
The Amplify Tablet will be a 10 inch tablet running Google Android with a custom user interface and educational software. News Corp's tablet is actually manufactured by Taiwanese device maker Asus, but it will be sold under the Amplify brand (much like the Asus-built Nexus 7 tablet is sold by Google).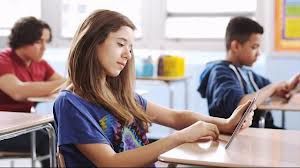 "In many school districts, teachers have been handed technology they either don't think is effective or don't know how to use," said Amplify. "The last thing we need is another pile of unused laptops in the back of the class."
"We want to transform the way teachers teach and students learn," said Amplify CEO Joel Klein. "Technology has revolutionized the world, but not the classroom. Our hope is that this tablet will help change that."
"This is more than just a tablet. It's a complete learning solution organized around the school day," said Stephen Smyth, president of Amplify's Access division. "We believe it's both more affordable and more impactful than just about any other product in the education technology market."
The tablet features an NVIDIA Tegra 3 processor, an 8.5 hour battery, an IPS display, and a 5MP camera. According to the spec sheet, it's "similar to the Asus Transformer Pad TF300TL), and even features a dock port on the bottom – and the tablet can work with optional keyboards, external batteries, and other accessories.
News Corp's tablet is designed for use in the classroom as well as at home, but the company is targeting schools, not parents. While students will be able to play educational games as well as doing homework, there's also a focus on in-class quizzes and other software that teachers can use as part of the curriculum.
Amplify's announcement on Wednesday at the South by Southwest annual interactive festival in Austin, Texas, marks its biggest product launch since News Corp bought Wireless Generation and rebranded the digital education startup as Amplify. The group, which will be part of News Corp's new publishing company after the media empire splits in two, is expected to report an operating loss of $180m in the 2013 fiscal year. Its revenues for 2012 were $100m.
Amplify said it welcomed further collaboration and was in talks with several textbook partners.
Its announcement comes as the adoption of education technology in the US is at a crossroads. The Department of Education recently announced a $400m programme called Race to the Top that provides grants to school districts for digital and personalised learning technologies.
Authorities say that the internet and other digital tools greatly enhance learning, but worries persist about the effect of the so-called digital divide that separates children who have access to technology from those who do not.
More than three quarters of high school and middle school teachers in the US say students submit assignments online, but only a fifth of those teachers report that all or almost all of their students have access to the technologies they need at home, according to a Pew Research Center report.
Most teachers questioned in the report feared that digital tools were leading to a wider gulf between affluent and disadvantaged school districts. The teachers were split as to whether access to technologies created a gap among students.
"The digital divide has created a chasm between those who are truly empowered and those who aren't," said Alberto Carvalho, superintendent of Miami-Dade schools in Florida. "Across America right now, zip codes often define the quality of education that children have ... we need to turn that round."
Mr Carvalho was speaking on Tuesday during a briefing on Comcast's Internet Essentials programme, which provides $9.95 per month broadband service, $150 computers and digital literacy training to families with children eligible for free and reduced school lunches.
Reference: News Corp. to challenge Apple's iPad in education with Amplify Tablet
News Corp education arm in tablet launch
​News Corp to launch a 10 inch Android tablet for schools/students
News Corp and former NYC schools chancellor launch 10 inch Android tablets for K-12 students
To be informed of the latest articles, subscribe: