Asus officially launched Transformer AiO all-in-one PC dual-boots Android and Windows 8
After many rumors and speculations, we finally see the announcement of Asus Transformer AiO, a dual OS device capable of running both Android and Windows.
Unlike other hybrid products, Asus Transformer AiO this one is made by two to computing devices with independent harwares: one is an Intel Core i5 CPU-equipped base unit that behaves like a standard Windows 8 all-in-one with an 18.4-inch display. The other is the built-in Nvidia Tegra 3 chip, becoming a giant, 5.6-pound Android tablet.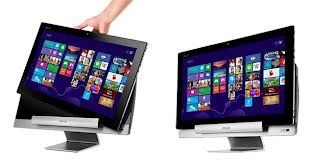 By day, the AiO is a humble Windows 8 PC; by night, it detaches from its stand to become an Android 4.1 tablet. That's because it's actually two devices in one -- the Windows side is powered by a third-generation Intel Core i5-3350P CPU (8GB of RAM, 1TB of storage), whereas the Android tablet UI runs on an NVIDIA Tegra 3 chip (2GB of RAM, 32GB of storage). Both operating systems come to life on the 18-inch 1920x1080 LED display, which makes the AiO the largest commercial Android tablet we can think of.
Asus Transformer AiO may seem at first glance just another All in One PC with a Full HD 18.4 inch display. Well, it's much more than that. It's a beautifully crafted hybrid with a handle at the back of the screen, that allows you to detach the display part and use it as a tablet. When in All in One mode, the device offers you Windows 8 and your choice of Intel Core i3, i5 or i7 processor, plus an Nvidia GeForce GT 730M graphics solution, 4-8 GB of RAM and up to 2 TB in HDD space.
To be informed of the latest articles, subscribe: