Apple's iOS grows as Google's Android slows
Is Apple's iOS taking rivals' market share? Apple grew its share of the smartphone platform market in the U.S. during the three-month period ended August 15, while Google's Android and BlackBerry lost market share, according to the latest data from comScore's MobiLens service.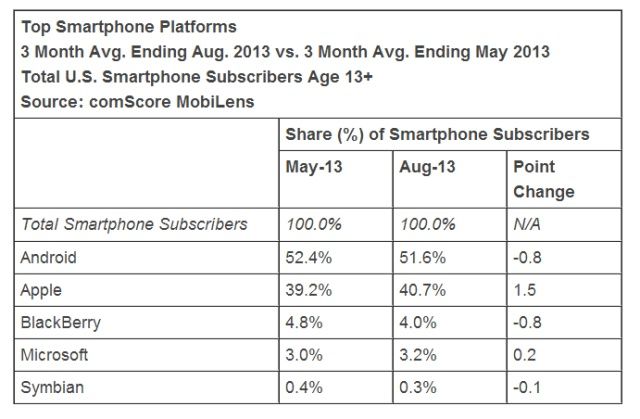 Although Android still holds a 51.6 percent majority share of the U.S. smartphone platform market, Apple's share grew from 39.2 percent in May to 40.7 percent in August. Meanwhile, Google's Android and BlackBerry each slipped 0.8 percentage points in platform market share over the same period.
Interestingly, the combined market losses from Android and BlackBerry are nearly equal to the amount of market share that Apple gained. While BlackBerry's struggles are well-known, it is less clear why Google's Android is losing platform market share, since the mobile operating system is utilized by many different smartphone makers. On the other hand, Apple's market gain is especially impressive when considering that this time period doesn't include the recent release of the new iPhone 5S or iPhone 5C
Apple continued to dominate as the top smartphone maker in the U.S. with a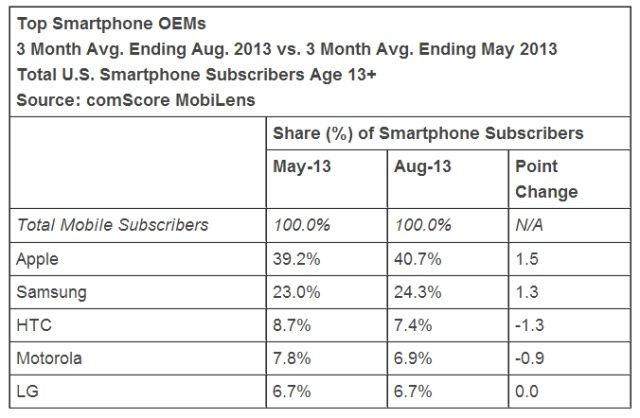 All other smartphone makers lost market share over the same period. HTC saw the biggest losses, dropping from an 8.7 percent share to a 7.4 percent share. Although it is not known how many new iPhones Apple has sold to date, the Cupertino-based company revealed that it sold a record-breaking nine million iPhone 5S and iPhone 5C models over the launch weekend. Since comScore's latest data doesn't include the impact of those sales, the next report may reveal even more dramatic growth rates for Apple's share of the OEM and smartphone platform markets. Here's how Apple traded on Friday.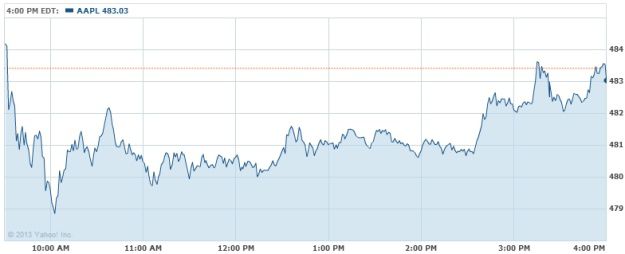 To be informed of the latest articles, subscribe: